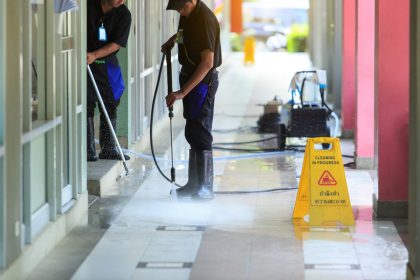 Power washing of a storefront can add value to both forms of real estate, with our two primary areas of focus being residential and commercial properties. Focusing on commercial structures, having a power washer clean up your storefront can add value to your complete business.
Everything revolves around appearance. Customers will see and take notice if the storefront is unclean, has gum residue, or even oil stains in the front, interior, or parking lot. Customers will publish images of your company to websites like Yelp or Google reviews regardless, so you want to make a good first impression to drive foot traffic and build long-term relationships with each customer.
Our top goal is the aesthetic of your business and storefront. As a result, we provide cleaning services for your store's windows, walkway, roof, and parking lot. Each portion is distinct, and a specialist must determine the type of surface or substance to clean your storefront effectively.
Not only does looks matter, but the wellness of your employees and consumers is also paramount. If there is a build-up of dirt or debris, mold may grow or unwanted bugs may be attracted. Most businesses or plazas, for example, clean their trash areas, which is where we come in. Pests like rats and raccoons will be more attracted to the trash if the collecting place is filthy, and they bring deadly bacteria or diseases. Clean settings attract more customers!
Once the storefront or business is clean and ready to go, it is recommended that monthly or quarterly cleanings be scheduled to compensate for normal wear and tear. Cleaning consistently takes less effort than cleaning buildup over time. Not only will it save you money, but it will also provide an environment and area that you and your clients will like. Contact Waterboys to get your schedule set up today.