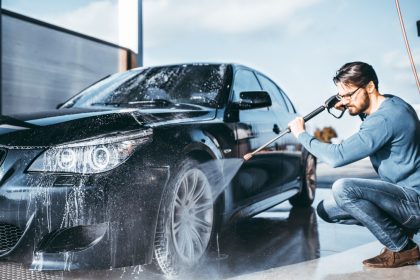 Is it safe to use a pressure washer to clean a car? One of the most common applications for pressure washers is cleaning automobiles. However, you might be wondering if it's safe to use a pressure washer on your car, just like many other motorists out there. In a way, yes, and in another, no.
Power washers, when used correctly, remove more soil and debris than a standard garden hose in a fraction of the time, leaving behind a smoother, glossier surface. However, a pressure washer might damage your paint if you don't know what you're doing or have the proper tools.
Knowing how to use a pressure washer safely, what common mistakes to avoid, and what model is ideal will save you time and money when cleaning your car. So, here are some guidelines for using a pressure washer on your automobile without endangering yourself or anybody else.
INVEST IN ELECTRICITY, NOT GAS
Remember to look for electric pressure washers rather than gas ones if you need one for your automobile. To get the job done right, wash your automobile with an electric pressure washer instead of a gas-powered one. A shorter water stream and lower maximum pressure are two advantages of electric pressure washers, which are advantageous while cleaning vehicles.
However, a gas-powered pressure washer can generate much higher pressure, making it ideal for cleaning asphalt and concrete in parking lots and driveways, but far too powerful for washing your automobile.
M.A.X. Power Wash: APPLY APPROPRIATE FORCE
Water pressure of 1500 psi or less is all that should be used on your car, despite the fact that many electric pressure washers can generate pressures of around 1900 psi. If you want something a little gentler than the norm, you'll need to choose a low-pressure machine. There is no noticeable improvement in cleaning power over 1500 psi; instead, you only increase the risk of scratching or otherwise ruining your paint job.
PICK THE RIGHT ATTACHMENTS
For the best results, it's important to utilize the suitable attachments on your machine and maintain the optimal water pressure. You may control the intensity of the water stream by adjusting the spray pattern of the attachment. Whether you're washing the car or the wheels, the minimum spray angle should never be less than 10 degrees.
Wheels and tires should be cleaned with a spray pattern of 25 degrees, while painted surfaces and vehicle glass should be cleaned with a spray pattern of 40 degrees. Always choose a nozzle that sprays in a fan pattern, as bullet tips might damage your car's paint job.
Always keep the point of your pressure at least 6 inches away from your paint and 12 inches away from any plastic trim. If you bring the tip any closer to the region where scratches or chips already exist, you risk loosening the trim or damaging the clear coat.
PUSH IT INTO HEAVY SOILS TO EXTRACT THEM
When it comes to washing your car, a pressure washer isn't always the best option. It may be preferable or necessary to wash your car by hand in some situations. On the other hand, there are some stains, like fresh tar or bug remains, that will not come out unless you use a specialized cleaner, such as Turtle Wax Bug & Tar Remover.
After off-roading or driving through the mud on a wet, rainy day, a pressure washer is the finest tool for removing stubborn soils from your vehicle. During the pre-rinse, when you want to remove the bulk of the dirt and soil from your wheels, tires, and outside panels, a pressure washer will come in very handy.
TAKE CARE, BUT YOU WILL STILL HAVE TO ENGAGE WITH YOUR CAR
When it comes to washing their cars, many people who have just purchased a pressure washer have the mistaken belief that they will no longer need to wash their vehicles by hand. To clean your car completely, you'll need more than just a power washer. Many pollutants, such as dirt and soil, will not come loose from your car's surface without being subjected to some sort of friction; therefore, you need still use a car wash mitt and a car wash soap solution to do so before rinsing with your pressure washer.
There is no such thing as a contactless car wash; therefore, the most secure method of employing a pressure washer is to switch out the hose from your lawn for a more thorough final washing. To get your car spotless, you will still need the traditional handwashing equipment: a 5-gallon bucket, grit guard, microfiber towels, and car wash soap like M.A.X. Power Wash.
After washing your car, spray it down with some Hybrid Solutions PRO Flex Wax to seal in that showroom shine and protect the paint. Contact Waterboyz for more advice on using pressure washer to clean a car.