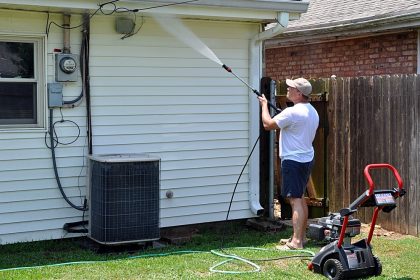 How do you pressure wash a house? The outside of your property is exposed to the sun, wind, pollution, dirt, and even insects and animals. Over time, you may discover that your siding, deck, or driveway has gotten discolored or damaged due to exposure to the weather. Fortunately, there is a remedy. Power-washing your home is a simple method to increase its curb appeal, prepare surfaces for painting, minimize damage, and restore its outside to its former splendor.
Learn how to select the appropriate pressure washer
Few household chores are as pleasant as using a strong spray nozzle to blast away grime and thoroughly clean the outside walls, deck, and driveway.  Choose an electric type with a PSI (pounds per square inch) of roughly 2,000 if there is minimal accumulation or if you're washing wood, which can be etched by a too-powerful jet. Choose a gas-powered pressure washer with a PSI between 2,500 and 3,000 for more stubborn stains or mildew, or to clean an entire home.
Verify the paint kind
Before you begin power washing, ensure that your home's exterior is not covered in lead paint; breaking up and spreading fragments of this paint, which is hazardous to your family's health, is a possible health danger. If you suspect that your home has lead-based paint, we suggest purchasing a test kit or engaging a professional inspector.
Perform the preparatory work
Prepare your workspace by closing all doors and windows and turning off the power to any exterior electrical outlets, which should be covered with tape or plastic. Additionally, prune any plants and shrubs that may be in the way. Once you've prepared the area, test the high-pressure spray in an inconspicuous location to ensure it won't damage the outside surface. Check the water supply by attaching a kink-free three-quarter-inch garden hose to verify that your machine receives enough water to function properly.
Use a low-pressure spray pattern to apply detergent when cleaning difficult stains and filth off the exterior of your property. If you use a detergent, let it lie on the surface for a few minutes before using the pressure washer in tiny portions from top to bottom. If you have a two-story home,  we suggest purchasing spray tips and extensions to ensure that you can reach the highest regions.
Consider the angles
The broadest nozzle takes detergent from the container; when cleaning a vertical surface (such as a wall), start at the bottom and work your way up. To power-rinse, switch to the 25-degree (green) nozzle and make overlapping passes from the top down, avoiding windows and frames. Use the 15-degree (yellow) angle for stubborn areas and the 40-degree (white) angle for soft materials such as wood.
Avoid windows and ventilation vents
Keep in mind that there are some locations you should avoid while pressure washing your home. Regardless of the sort of exterior you are cleaning, avoid getting detergent or water below the surface. Keep the high-pressure spray away from external vents and windows. In addition to standing on a sturdy platform and wearing protective gear, he advises never leaving the spray gun alone while the pressure washer is operating.
Make yourself a schedule
How often should pressure wash your house?  You should not need to power-wash your home more than twice a year; but, there is one area that requires special attention. The northern exposure of a home is more susceptible to moss and lichen growth because it receives less direct sunshine. This may need more regular pressure cleaning. If you have a busy schedule and would rather the professionals take care of it, please contact us at Waterboyz and you won't be disappointed with our pristine and detailed work.