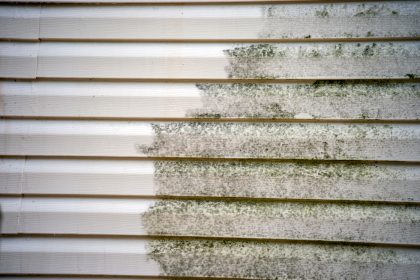 Here is how to prevent mold on your house's exterior. We must be persistent in our efforts to eliminate mold and mildew from forming on our homes. Some homes may be more prone to mold than others due to the natural factors, temperature changes, and location of the residence. These moss-like growths may cover your roof, creep along your siding, or even show up on your pavers. However, the key to getting rid of it is to stop it before it even starts to grow. Mold can be permanently removed from your home by following our cleaning suggestions and methods.
Hire a reputable pressure washing firm to clean your house and rid it of algae, mold, and mildew. They will use a blaster to remove the mold from your home's surface, and if necessary, they will use a cleaning agent of a commercial grade to get rid of any fungi or germs.
Maintain clear gutters to direct water away from the house. Any additional moisture close to your home is thought to be a breeding ground for mold.
Trim the surrounding trees and vegetation away from the roof so that sunshine may reach these surfaces, drying them up, and eradicating any living bacteria and mold.
Caulk cracks in siding and windows to keep moisture from entering your home.
To identify any problems before they become a mold infestation, perform routine roof inspections.
Maintain a regular program for cleaning your home's exterior. A healthy home requires routine roof cleaning and upkeep.
Ask the pressure washers in your area to look around your house for any indications of mold growth. The professionals will be able to help you identify any warning signs of mold in your house and will know just what to look for.
Why Mold Removal Is Vital
If left untreated and outside of your home, exterior mold can harm it. The germs will find its way into the smallest cracks and may eventually gain access to your house. When this occurs, you and your family may be at risk for other mold-related health problems.
Another factor making mold removal so crucial is the way it will negatively affect your property value and diminish the exterior appeal of your house or place of business. If you're looking to sell, examine the exterior surface to check for any obvious mold development. Maintaining a neat and tidy exterior will instantly increase the value of your home and draw potential buyers to your property.
By being dependable and keeping up with your home's routine maintenance schedule, you can prevent the mold, stop it from coming back, and improve the curb appeal of your house at the same time. For affordable rates and additional details on how to prevent mildew on your home or place of business, get in touch with Waterboyz.