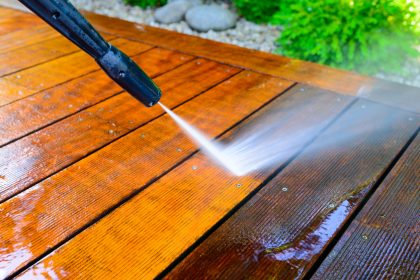 The Most Common Power Washing Misconceptions
I CAN DO IT MYSELF BECAUSE IT'S SO SIMPLE! Although there is no doubt that anyone may master a trade and profit from it on their own, the usual inquirer about pressure washing has this mistake. Many people who don't take the time to learn and build the essential skill set to correctly operate a power washing engine are quick to cause harm to a home or business.
First and foremost, unless you are an expert, you should never pressure wash from a ladder since it is dangerous and can result in serious injury. Another important issue is that people who wish to do their own pressure washing purchase low-cost, low-quality equipment as a starting point. This can harm vinyl, asphalt shingles, and pressure-treated wood because most of these less expensive engines aren't sensitive to the type of material being cleaned and have a predetermined pressure that isn't suitable for certain flooring. Higher-grade materials are completely under the discretion of the user, and getting the right engine for your needs may cost anywhere from $20,000 to $40,000
Second
Toxic chemicals used in cleaning products will harm adjacent plants, animals, pets, and children. True, but a good pressure washing firm will only use cleaners that are environmentally friendly and stable to use with any living organism. Plants, on the other hand, may be discolored by certain cleaning solutions if they are handled and then dried. A fairly simple solution provides high-quality protection depending on the proximity of use between the flooring and the plants. Simply water the plants before pressure washing to ensure that any substance that comes into contact with does not dry and wet them again after cleaning.
Third
High-pressure washing is the only method to truly clean something. This is a complete fad; only organizations who don't want to spend the extra money on proper cleaners would tell you this in order to save money. High-pressure washing can cause a lot of harm to a person's home since it encourages mold to grow and fungus pores to form. There are a number of distinct restrictions that come with high-pressure washing, as it is not designed for every cleaning situation. Because wood is considerably softer than most people realize, you don't want to leave any unsightly markings on it. This is something that high-pressure washing is known to do.
Fourth
Honest power washing businesses should be able to give a quote over the phone without needing to view the type of material and size of the flooring.
The present premise!
WRONG! Although it would be ideal to be able to provide quotes without seeing the area that requires power cleaning, this is simply not possible. Power washers have various mental tests they run the flooring through when seeing it in person to give them a correct understanding of the work needed in order to allocate an honest estimate, just like a doctor can't truly diagnose a condition without performing a series of tests. This is not a way for increasing the price exponentially; rather, it is the process of being able to provide a quote in the first place. Consumers have become impatient as a result of this, although great work is not necessarily the fastest or cheapest. Contact Waterboyz for further information.