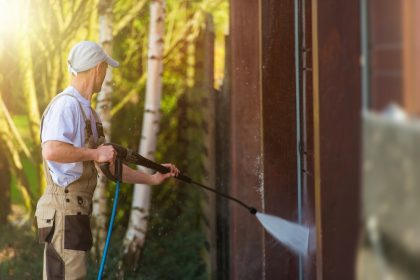 Soft washing protects your home from damage by using a soft pressure cleaning technique. Over time, excessively high-pressure washing can rip the exterior of your property, resulting in permanent harm. You may be sure that a soft washing will give you a thorough but kind clean.
Pressure washers are the best cleaning equipment for your house and landscaping. From being able to entirely transform the appearance of your home to being able to remove severe grime from even the toughest surfaces. Setting up an in-person estimate is one approach to make sure the dirtiest areas of your house get cleaned. This will ensure that before we come out to clean, we can reach every nook and cranny and inspect everything.
One of the biggest and simplest improvements you can make to your home's curb appeal and aesthetic is flatwork, driveways, and sidewalks. In addition to making your aggregate appear 100% better by removing the green algae and black stains from your concrete, you are also preventing your family from potentially fatal slips and falls due to the slippery algae.
You will receive the greatest pressure washing services from Waterboyz and be able to reap all of its advantages. Even better, we'll be able to pressure wash your property with the proper pressure, ensuring that none of your belongings or property will be harmed.