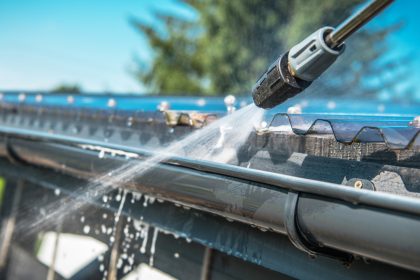 Soft washing may sound like the odd one out when it comes to pressure washing and power washing, but it actually falls into the same cleaning categories. With power washing and pressure washing utilizing high pressure to wash away dirt and debris, soft washing uses a lower PSI, or pressure per square inch, to get the cleaning done. Not only is the pressure greatly reduced for a soft wash, but the cleaning also uses an eco-friendly detergent or solution to clean any fragile or delicate surface. Some more fragile surfaces may include outdoor furniture, screens, wood panel sidings, stucco, or even rooted plants.
By using a soft wash, you are achieving the same clean results as a power wash without having to worry about damaging the surface underneath. Since a soft wash is not using heated water to break down bacteria or mold, the cleaning solution helps achieve the same results. For instance, trying to clean a tough stain or oil drip on the driveway will be difficult with just a pressure washer. Using a power washer with heated water or a soft washer with the right solution can help solve that problem.
As a part of our mission to keep our products and services safe for both our customers and the planet, we use environmentally friendly products that are biodegradable and non-toxic to the surrounding plants. Drainage of the used water is also important for our sewage system, therefore we reclaim our water and safely dispose of it to ensure maximum safety for the environment. We use non-toxic and biodegradable products for the safety of your home and your surroundings.
When deciding on which type of service you need, take into account the surface the grime is on, as well as the surrounding area. Although the solutions used for the soft washer are eco-friendly, there are most likely different surfaces surrounding the area. To prevent any damage to your home, always contact a professional for all cleaning services. Utilizing a professional washer will guarantee you the appropriate equipment, no damage to your home, and keep you from constantly washing the same area due to regrowth of mold or algae. Contact Waterboyz with any questions you may have.