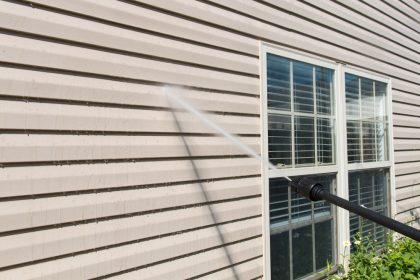 Should you repaint or pressure wash your home? If your home is currently appearing dreary, you may be unsure of the best way to improve its appearance. How do you tell when it's time to repaint your home? Or perhaps there is a method to restore its beauty without painting. Pressure washing might be the answer to your problem.
Pressure washing restores the appearance of the siding and cleans the exterior of the home. Regular cleaning helps to preserve and prolong the life of the siding by eliminating mildew and mold. You may be shocked to discover that a paint job is unnecessary.
WHEN SHOULD I PAINT THE EXTERIOR OF MY HOME?
Extreme temperatures, humidity, and precipitation may wreak havoc on the outside of your home. The siding material is the second most important determinant of paint durability:
Wood siding — must be repainted every three to seven years.
The paint on aluminum siding lasts between 10 and 15 years.
Painted Brick – should be repainted every fifteen to twenty years
Fiber cement – requires repainting every 10 to 15 years
Vinyl – often does not need repainting, but should be changed every 20 to 30 years.
Indications That Your Home Requires Painting
Observe these indications that the external paint needs to be reapplied. Depending on the severity of the damage, several of these indicators may also signal the necessity for wood repair or siding replacement.
Cracking,
Bubbling,
Flaking,
Peeling,
Discoloration,
Fading.
Paint serves as a protective covering. This surface protection degrades over time due to exposure to UV radiation, precipitation, and temperature fluctuations. This type of paint damage must be repaired immediately since it exposes the exterior of the home to the elements. Water damage, wood rot, dry rot, termite infestation, and other insect damage can result from exposed siding.
IS IT PREFERABLE TO PRESSURE WASH THE EXTERIOR OF MY HOME?
So should you repaint or pressure wash your home? The good news is that it is not always essential to repaint. Pressure washing may dramatically improve the appearance of your exterior siding, brick, stone, stucco, or fiber cement. In addition, regular care can actually extend the life of the paint job and siding.
Indications That Your Home Needs Pressure Washing
If your home exhibits any of the following, power cleaning will be of considerable help.
Dirt and grime,
fungus growth,
Mildew,
Pollen or plant matter.
Regular pressure washing is highly advised, especially for properties that are surrounded by trees, located in shaded places, or have a north-facing façade that receives little direct sunshine. Those who live close to the road, where they accumulate a great deal of dirt thrown up by passing cars, can also benefit. Homes located close to construction sites may accumulate dirt and trash rapidly. In addition, seasonal shifts result in the accumulation of plant matter on the exterior of a residential structure.
These are all excellent reasons to schedule expert pressure cleaning services this spring. Spraying the siding with a standard garden hose is ineffectual for this type of stubborn accumulation. And balancing on a ladder to accomplish this can be perilous, especially for two- or three-story homes. It is preferable to hire a professional power cleaning crew for this task.
IS IT POSSIBLE TO REMOVE PAINT WITH A HIGH-PRESSURE WASHER?
If repainting is the best approach to restore the beauty of your outside, you will need to locate the simplest technique to remove peeling and damaged paint off brick or wood siding. Existing painted surfaces can be easily prepared with a high-powered pressure washer.
To remove the paint from the surface, between 3,000 and 4,000 PSI is required for this home repair job. Remember to put on safety glasses or goggles prior to beginning work. Keeping the spray nozzle at an angle and traveling continuously in the same direction as the wood grain is an efficient approach.  For a professional and pristine pressure washing job contact Waterboyz.