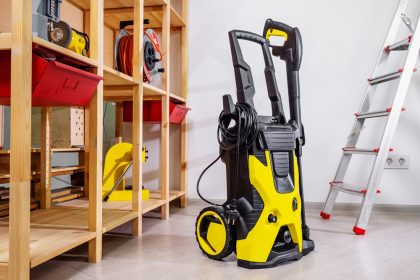 Described below is how to pressure wash your garage floor. Many homeowners use their garages for much more than just storing their automobiles. They serve as our private exercise facilities, art studios, and additional storage. Our garages tend to fill up with dust and filth over time because of all the things we use them for. Using a power washer is an efficient approach to restore your garage's sparkling brilliance if it has been a while since you gave it a thorough cleaning.
Although power washers are strong tools, they are safe and simple for almost anybody to operate. Anyone who is a homeowner might easily buy or simply rent a power washer to clean their garage. Additionally, using it is highly efficient.
A Pressure Washer's and a Power Washer's Difference
Power washers use hot water, whereas pressure washers do not, which is the primary distinction between the two kinds of high-flow washers. Power washers are therefore sometimes more effective at getting rid of tough dirt and grime, particularly oil and grease stains on cars.
Oil and Grease Stains Removal
Speaking of oil and grease stains, you might need to use some cleaning solutions in addition to the power of the power washer to get rid of these difficult stains from concrete. Before using your power washer, apply a cleaner. The stains on the concrete can be removed more easily by first using poultices and degreasers.
Utilizing a Power Washer
Now that you are aware of the advantages of utilizing a power washer for your garage, keep reading for some advice and recommendations on cleaning it up:
When used in confined places like a garage, electric power washers are safer to operate than gas ones.
Start by thoroughly sweeping the area to get rid of loose trash.
Start power washing near the back of your garage (the area closest to the house) and work your way forward to the entrance.
Allow the water and dirt to wash outward and away from your house by spraying directly into the garage floor and out toward the door.
Safety Advice on how to Pressure Wash your Garage Floor
The water that emerges from the washer has a strong pressure. As a result, you must take some safety measures while cleaning your garage. When using your power washer, make sure to wear closed-toe shoes at all times. The finest protection is provided by used work boots. Because the force of the water can harm others, take care not to point the wand straight at somebody or your feet. Never check the pressure with your hand and remember to turn off the water entirely before changing the nozzle or adding accessories. Contact Waterboyz for a spotless profesional job done right.