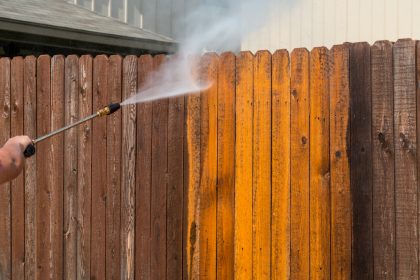 Can high-pressure washing harm wood? A well-maintained wood deck provides an attractive connection to the outdoors, enhancing the natural beauty and attractiveness of a home. You may either utilize it to warm up on chilly winter days or to host parties. A few clever additions transform the space into a year-round entertainment destination.
Regular care with local pressure washing maintains the natural beauty of your wood deck and boosts its resale value, regardless of the cause.
Instead of worrying about it yourself, you should contact the specialists. They have the skills and tools necessary to remove stains and pollutants without leaving any damage behind.
How to Preserve a Wood Through Pressure Washing
Wood, like every other portion of your home, is susceptible to deterioration from the environment and requires upkeep. Generally, cleaning products and brighteners are effective. However, if your deck is constructed from South American hardwoods such as Tigerwood, Camaru, or Ipe, a pressure washer may be necessary. A straightforward garden hose with a sprayer would suffice. You may use it to clean your deck of any dirt and filth.
Again, a simple pressure wash is sufficient for decks constructed of treated or pressed wood. However, avoid placing the nozzle too close to the wood. Similarly, it is recommended to begin with a low-pressure nozzle in a location where you can observe whether the spray is etching the wood or shattering the fibers. Most essential, washing wooden boards along their length prevents any harm.
How do Professionals Power-Wash Wood Decks?
You must use extreme caution while using a pressure washer to clean wood siding, a wood deck, or a wood fence in your backyard. If done improperly, you may end up causing damage.
When your wooden deck requires cleaning, a professional pressure washing business completes the task effectively. They completely clean the surface, eliminating environmental contaminants like mildew, algae, and mold, while safeguarding your house from harm.
For effective results, engage pressure washing specialists to polish your deck. Follow their procedures:
Appropriate Pressure Adjustment & Tip Choice
Not all surfaces require high-pressure cleaning. Wood has a delicate surface that requires delicate cleaning.
A tidy deck is one of the top three characteristics contributing to a greater home value.
Consequently, picking the proper tip is essential. With the appropriate advice, you can prevent damage to your wooden deck. Typically, a fan tip or a revolving tip with a spread of 40 to 60 degrees is utilized.
When high-pressure washing wood keep the permissible pressure is as low as feasible. Softer timbers are cleaned with pressures between 500 and 600 psi, whilst hardwoods may handle pressures up to 1200 psi. Before beginning, the pressure is tested in an inconspicuous area of the deck where any damage will not be readily noticeable. Remember that a pressure washer is capable of etching wood if used with excessive jet pressure.
Maintain Some Distance from nearby power washing
Spraying the deck with a washer tip that is too close to the wood is disastrous. It creates lasting harm in the form of markings or lines of imprinting. Professionals avoid this by keeping the correct distance between the deck and the pressure washer tip.
Give your deck some room and use the washer from a distance to facilitate a uniform application. Using a relatively rapid spraying technique, evenly wipe the surfaces without leaving behind unsightly streaks.
Use Appropriate Washing Methods
It takes time and practice to learn the proper techniques for pressure cleaning a wooden deck. Optimally, begin with low-pressure settings and gradually raise this pressure. This will clean the surface of the deck without etching or harming it.
Low-pressure settings are optimal for wood.
You may accomplish the same result by keeping the washer's nozzle at a distance and lowering the wand to within 12 inches of the surface. To clean evenly, use a sweeping motion and pivot the wand with your arms. Maintain a steady distance during this procedure by moving your arms laterally.
Start with the hotspots or apparent borders that require local pressure washing for uniform cleaning. In addition, remember to always wash with the grain and never against it.
After-Washing Wood Sanding
When high-pressure washing your wooden deck, you will want to avoid damaging or degrading the wood fibers. When softwood fibers become damp, they tend to splinter, especially on handrails. Fortunately, there is a solution to this issue: sanding.
The optimal method for sanding wood surfaces is spot sanding, but if you wish to repair the area, you must sand the whole deck. It yields boards with minimum splintering and minimal smoothness.
The sanding procedure creates pores that allow the wood to absorb the stain or sealant. For the required results, sand the deck surface using 60-80 grit sandpaper.
Clearly, the technique is key when it comes to pressure cleaning wood surfaces. Ensure that you follow the correct method. Contact Waterboyz for a quote.